What is Community Supported Agriculture (CSA)
Share in the harvest.
In a CSA, a community is created between a local farmer and consumers. The consumers purchase a "share" of the upcoming harvest produced on the farm. The cost of a share is based on the true costs of production. By purchasing a share, the consumers obtain farm-fresh, organic produce while helping to keep a local family farm economically and environmentally viable.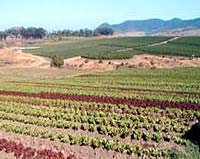 Community Supported Agriculture (CSA) began in this country in 1985 in New England as a way of supporting social and ecological responsibility in the local community. Of the more than four hundred CSA's in the United States, a majority adhere to the principles of sustainable agriculture by using organic farming methods.
Shareholders of the Be Wise Ranch CSA, for example, not only enjoy farm-fresh certified organic produce, they also support the use of ecologically-responsible farming methods which improve the mineral and nutrient content of the soil, and recycle local green waste into compost. Organic farming helps preserve the water and air quality of their community by not using or encouraging the manufacture and use of chemical fertilizers, or dangerous chemical pesticides and herbicides.
A CSA brings the consumer and the farmer together - enhancing ecological diversity, facilitating the recycling of important nutrients and waste products, and maximizing the self-sufficiency of family farms.
Five reasons for joining Be Wise Ranch CSA:
You and your family will be able to eat tasty and nutritious farm-fresh produce year-round, delivered weekly (or every other week) to a location convenient to your home.
You will enjoy a wide variety of fruits and vegetables grown organically, without the use of synthetic fertilizers or pesticides.
You will encourage sustainable stewardship of a local family farm right here in San Diego.
You will join a community of over 2500 families in San Diego who are committed to social and ecological responsibility in the local community.
And you can do all this at a lower cost than buying the same produce at a supermarket!
Enjoy fresh produce year round at a reasonable cost.
Be Wise Ranch grows a wide variety of organic fruits and vegetables. Here in San Diego, we are blessed with a long growing season and we are usually able to supply you with farm-fresh produce year round. We specialize in growing organic fruits and vegetables whose farm-fresh flavor cannot be bought in a supermarket. And, as a member of our CSA, you receive all of this fresh, nutritious, organically grown produce, grown locally on a family farm for less than what you'd pay in a supermarket.
Use the links below to learn more about the Be Wise Ranch CSA project. We deliver boxes of produce to our members on a weekly or every-other week basis to many pick-up locations in San Diego.
For more information, see our CSA FAQ's