Where to Buy Be Wise Organic Produce in San Diego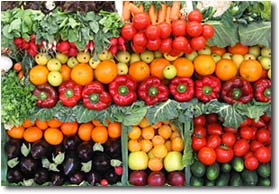 Be Wise Ranch specializes in flavorful varieties of organic fruits and vegetables, and offers a wide selection of organic produce to our local San Diego customers. To find out about our Community Supported Agriculture Program, which delivers boxes of fresh vegetables to pick-up points in various neighborhoods throughout San Diego County. Our San Diego customers can also buy our produce at local health food stores that have consistently supported Be Wise Ranch-such as:
Jimbo's in Escondido, Carlsbad, Del Mar, 4S Ranch & Horton Plaza
Major Market in Escondido & Fallbrook
Baron's in Rancho Bernardo, Point Loma, Wildomar, Temecula & Murrieta
Stehly's in Adams
People's Food Coop in Ocean Beach
Whole Foods in La Jolla, Hillcrest, Del Mar & Encinitas
Specialty Produce in San Diego
Local customers can also receive these varieties delivered in weekly boxes through our Community Supported Agriculture Program. Our CSA customers receive a wide range of fresh-picked organic fruits and vegetables that are ripe and ready to eat. Depending upon the season, we have sweet strawberries, wonderful vine-ripened tomatoes, delicious peaches. In addition to oranges, lemons, limes, and avocados from our orchards, we also offer tomatoes, fifteen varieties of heirloom tomatoes, strawberries, cucumbers, zucchini and summer squash, carrots, a variety of greens such as spinach, arugula, three kinds of chard, two kinds of kale. We grow broccoli, leeks, red and green cabbage, four kinds of lettuce (redleaf, greenleaf, red butter, green butter), green onions, radishes, turnips, two kinds of beets, celery, several kinds of string beans (green, purple, and wax), eggplant, hard squashes such as butternut, and pumpkins.